Annual Meeting officially launches Sunday morning on a mission to advance the frontiers of cancer science
---
Sunday morning's Opening Plenary Session borrows its name from the Annual Meeting theme, "Advancing the Frontiers of Cancer Science and Medicine," and will set the stage for this year's scientific program, according to Annual Meeting Program Committee Chair Robert H. Vonderheide, MD, DPhil. The two-hour session, which begins at 9:30 a.m. ET in W Hall A2-3 at the convention center, features a diverse roster of speakers and presentations across the continuum of cancer research — from the lab to clinical trials to the clinic to the community.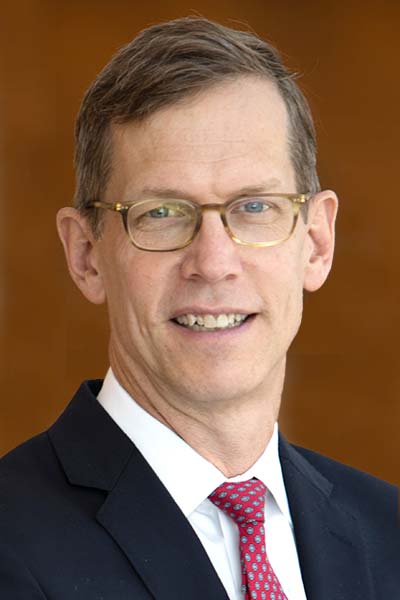 "This session truly exemplifies the theme of the meeting by showcasing examples of how research in diverse fields of study — from basic science and drug discovery to population science and health equity — are advancing those fields and opening up new frontiers in all areas of cancer research," said Vonderheide, Director of the Abramson Cancer Center at the University of Pennsylvania, who will chair the session.
In the first presentation, Deborah Schrag, MD, MPH, Chair of the Department of Medicine at Memorial Sloan Kettering Cancer Center, will discuss population health and the challenges of translating knowledge into clinical practice.
"The gap between research and practice in many areas of health care and public health is large," Vonderheide said. "This presentation will focus on the translation of knowledge, what public health researchers can do to hasten that transfer, and how implementation science and population science come together to change how we deliver care."
David G. DeNardo, PhD, Professor of Medicine in the Oncology Division at Washington University School of Medicine, will review new approaches in immunology and immunotherapy, including emerging therapeutic strategies to stimulate anti-cancer immunity.
"Scientifically, people may have thought we've hit a plateau with immunology, but we've actually only just begun," Vonderheide said. "We're learning more and more about the nature of cancer immune responses and how, even in cancer types or in patients who don't respond to traditional immunotherapy, new approaches with targeted combinations hold great promise."
Teresa A. Zimmers, PhD, Professor of Cell, Developmental and Cancer Biology at Oregon Health & Science University Knight Cancer Institute, will describe new insights into the complexity of cachexia in cancer.
"When people think about cachexia in cancer, they think about pancreatic cancer, but there are actually a lot of different organ-site malignancies where cachexia is a significant problem," Vonderheide said. "This presentation will examine the clinical and human impact of cachexia and its complexity — the multi-organ nature, the multi-symptom nature, the difficulty of pinning down what is cachexia, and potentially how to treat it."
Robert Yarchoan, MD, Chief of the HIV and AIDS Malignancy Branch at the National Cancer Institute, will review the latest developments in the understanding of malignancies in people with HIV.
"Malignancies in people living with HIV is a disparity that's been overlooked across the board. This is a field at the intersection of oncology, virology, and immunology," Vonderheide said. "We will talk about how advances in our understanding of both prevention and treatment of HIV-associated malignancies, such as Kaposi sarcoma and Castleman disease, are highlighting the need to recognize and address this disparity."
The final speaker, Tomi Akinyemiju, PhD, Associate Professor of Population Health and Global Health at Duke University School of Medicine, will discuss the ongoing pursuit for equity at the frontiers of cancer care.
"This is going to be a cross-cutting theme across the entire meeting where we talk about community, we talk about equity, we talk about diversity in all its forms," Vonderheide said. "All of these great advances that we're making have to apply and be available to everybody — no matter who they are or where they live — or the impact is not what we want it to be."
What all of these presentations have in common, he said, is that they illustrate the power of multidisciplinary, collaborative science.
"The AACR represents a broad spectrum of cancer research, and we want people, particularly our young scientists, to leave this session with an appreciation of all the different voices in cancer research and an understanding of how important it is to embrace multidisciplinary science and support the collaborations that move us forward," Vonderheide said.
Claim Your CME/MOC Credits for the Annual MeetinG
Access to the AACR Annual Meeting 2023 virtual meeting platform and all on-demand sessions is available through July 19, 2023. To claim CME/MOC credits for qualified sessions, visit the AACR Continuing Medication Education page. Questions? Contact the AACR Office of CME at (215) 440-9300 or via e-mail at [email protected].