Panelists explore diagnostic approaches, replication stress, and resistance mechanisms to DDR-targeting therapies
---
A session and subsequent panel discussion covered the current preclinical and clinical data on different diagnostic approaches to identify patients with tumors sensitive to therapies targeting the DNA damage response (DDR), PARP inhibitors in particular.
Registrants can watch replays of DNA Damage Response (DDR) Treatment: Evolving Diagnostic Approaches, Understanding of Replication Stress, and Resistance Mechanisms to DDR Targeting Therapies, and the panel discussion through June 21, 2021.
Evolving diagnostic approaches to identifying tumors with homologous recombination repair deficiency
Joaquin Mateo, MD, PhD, Vall d'Hebron Institute of Oncology (VHIO), discussed tests for loss-of-function mutations in genes involved in homologous recombination repair (HRR), genomic scar tests for homologous repair deficiency (HRD), and the prospects for functional tests for HRD.
Studies have shown that BRCA loss is synthetic lethal with PARP inhibition, findings which led to the development of PARP inhibitors in the clinic.
"We do have evidence that loss of HRR function is relevant in the clinic as a predictive and sometimes prognostic biomarker," Mateo said. "But the question is how to identify those patients and the tumors with true loss of HRR function."
Mateo discussed three different approaches to the question—finding the genomic events leading to the HRR deficiency, finding signatures or repetitive patterns across the genome that result from the HRR malfunction, and dose tests that try to test if a tumor is actually repairing by HRR in the presence of DNA damage.
"The analytical validity of NGS panels and genomic scar tests has been widely validated for functional assays," Mateo said. "This work is still ongoing, but the clinical qualification of all these assays, particularly for the genomic scar assays, needs to be pursued now in specific datasets of different tumor types, ideally in clinical trials of PARP inhibitors and other drugs in different tumor types."
Mateo said that dose tests based on whole genome sequencing, for example, have difficult applicability in clinical practice and noted that NGS panels and functional assays are going to be able to detect some of the mechanisms of secondary resistance, but not all of them.
"I don't think there is going to be one perfect test, but it's important that we understand the limitations of each of them and how they can provide complementary information that can help us deliver more precise care for patients," he said.
Targeting the replication stress response
Mark J. O'Connor, PhD, AstraZeneca PLC, discussed the replication stress response (RSR) as a component of DNA damage repair and therapeutic approaches to targeting the RSR, including the identification of genetic backgrounds that are associated with sensitivity to the WEE1 inhibitor.
"Replication stress is a hallmark of cancer, but in order to be able to exploit this effectively, we need to be able to identify cancers that have a greater dependency on the replication stress response," O'Connor said. "The replication stress response involves a number of DDL proteins, primarily ATR, WEE1, and CHK1, and these proteins work to prevent nucleases from cleaving in the DNA and causing a collapsed replication fork."
Preclinical work, he said, suggests there isn't a single biomarker on its own that can effectively predict replication stress and sensitivity to inhibitors of WEE1, for example.
"That's in terms of things that have been lost or overexpressed," O'Connor said. "However, it may well be that if we can get phenotypic markers such as phosphorylated RPA working, then there might be an opportunity to use those in the clinic to select patients' tumors that might be responsive to inhibitors such as the WEE1 inhibitor."
O'Connor said that early clinical data from a study of uterine serous carcinomas, which are highly enriched for replication stress-associated biomarkers, provide proof of concept around the idea that replication stress response inhibitors, such as the WEE1 inhibitor, have the potential to target replication stress in cancers.
Resistance mechanisms to DDR targeted therapies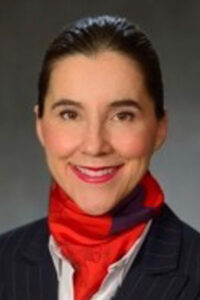 Fiona Simpkins, MD, University of Pennsylvania School of Medicine, discussed emerging preclinical and clinical data on resistance mechanisms to PARP inhibition and combination approaches to overcoming resistance.
In ongoing work in her lab, Simpkins and her colleagues proposed that targeting two unique DNA repair pathways, ATR and PARP1, by combination PARP/ATR inhibition would lead to increased double strand breaks by different fork-stabilizing mechanisms, and potentially decrease resistance.
"Combination PARP and ATR inhibition overcomes many potential mechanisms of PARP inhibitor resistance in preclinical models; however, degree of efficacy may depend on genetic context," Simpkins said.
Simpkins said that a signal of activity of PARP/ATR combination in platinum-resistant, HR-deficient ovarian cancer patients warrants further study, noting that dose and schedule for PARP inhibitor-ATR inhibitor will be critical in advancing this combination in the clinic, something they are exploring in another cohort through the CAPRI clinical trial.
"WEE1 inhibition is a promising combination for CCNE1-overexpressing ovarian cancers," Simpkins said. "Using this combination may allow lower dosing of each drug, thereby increasing tolerability."